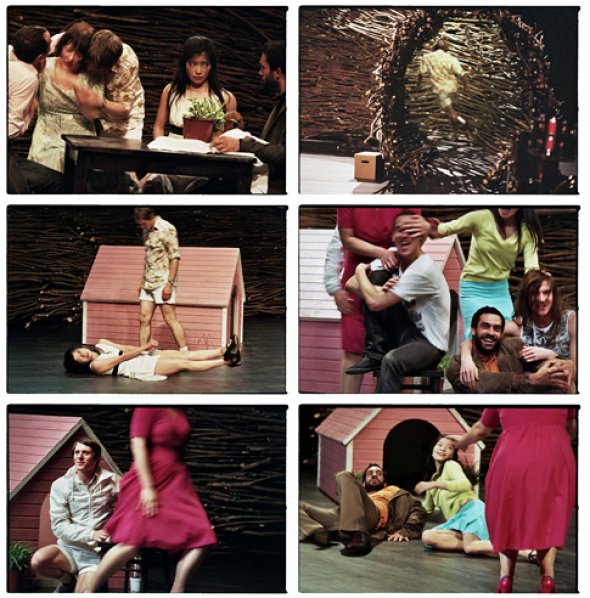 Not being able to spend time with my own family on Thanksgiving, I went to watch other families in Meg Stuart's piece "Do Animals Cry?"

I had seen the piece at the open rehearsal back in May, but was excited to see the final piece & in the newly renovated Volksbühne to boot.

I loved Doris Dziersk's stage.

The stick tunnel has to be one of my favorite stage designs ever. & when Frank Willens was running through it, it was magical.

(sic)

I loved the taxidermic dog. I loved plants being balanced on teenage stoner boys' heads & absurd representations of family life. I loved the moments when I thought about my own family & not about 'family.' I felt a bit unsure about a number of the other elements but this might have to do with my memory of the piece at the rehearsal, which I fell in love with. All the parts I liked best at the rehearsal were now either cut or seriously reduced. Most of the absurdity & lightness was suggested but not as deeply explored as the elements of grief, pain & feeling stuck. The piece became more monochrome.

But this isn't really a critique of the piece, which I think had to be as long & desperate as it was, but only that I wished there would have been more moments of beauty & true laughter. I wished there was more taxidermy, 'good news' & plants being balanced on their head with outer space dialogue. & more poetry. I wished, but I always wish this in dance pieces, there was less sex, less 'investigations' of (sexual) (usually heterosexual) relationships. Is this all we are? If not, what then?

In the real world, real things happened. RIP Matty Hanawalt. I'll miss you.